Presentation
Youth, skills, and resilience: the view from WorldSkills Champions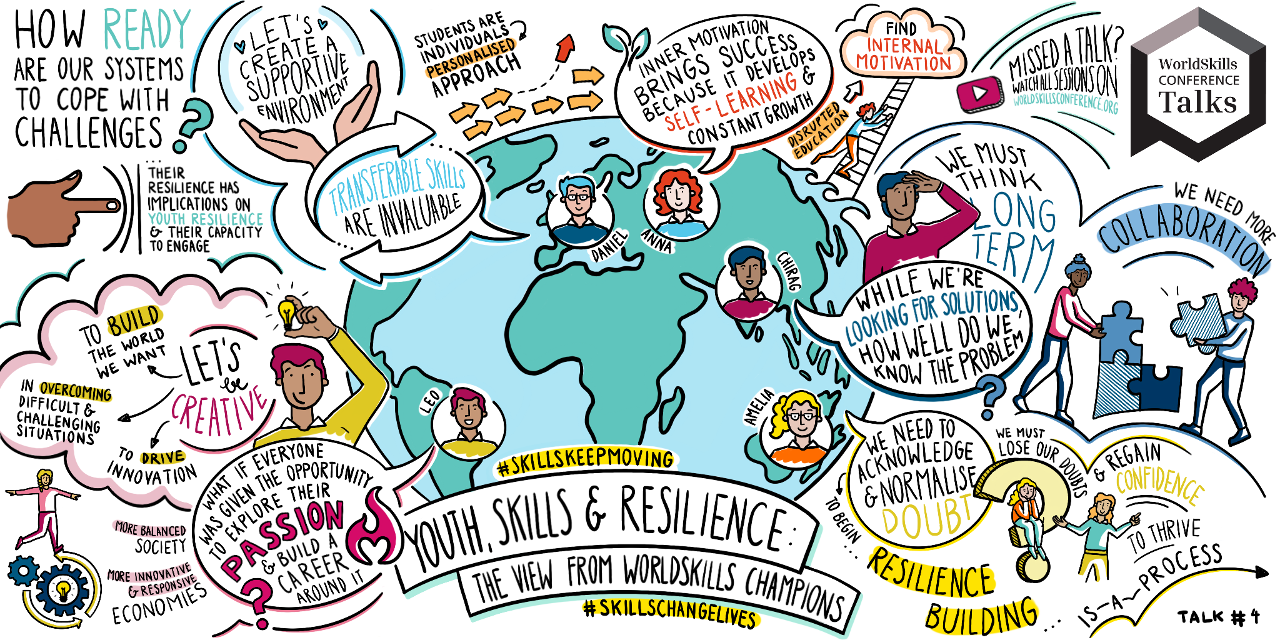 Details
15 July 2020 at 12:00 (GMT)
This year's World Youth Skills Day was dedicated to the theme "Skills for a resilient Youth" and alongside this topic we discussed different ways to build resilience in these challenging times.

We heard from a diverse round of WorldSkills Champions around the world about how the global pandemic has impacted them and their fellow skilled professionals. The champions presented and discussed different challenges and topics they were confronted with and that need to be solved as we rebuild. They also made suggestions for ways that young people can be central to the economic recovery.

Participating in the discussions were Borhene Chakroun, Director Division for Policies and Lifelong Learning Systems, UNESCO, as well as Chris Humphries, Acting President of WorldSkills.

What is World Youth Skills Day?
The UN designated day seeks to generate greater awareness of and discussion on the importance of technical, vocational education, and training and the development of other skills relevant to both local and global economies. It is hoped that it will contribute to reducing unemployment and underemployment among the youth across the globe. It will highlight youth skills development to draw attention to the critical need for marketable skills.

WorldSkills will support this globally important topic via the broad spread of activities and initiatives in our six focus areas all aimed at raising the profile and recognition of skilled people, and showing how important skills are in achieving economic growth and personal success. Inspiring, educating, and developing youth is an integral part of this.
---
Speakers
Chris Humphries (Moderator)
Acting President of WorldSkills
---
Borhene Chakroun
Director, UNESCO Division for Policies and Lifelong Learning Systems
---
Amelia Addis
Representative for ASEAN and Oceania, WorldSkills Champions Trust, New Zealand
---
Anna Prokopenia
Former Representative for Europe, WorldSkills Champions Trust, Russia
---
Chirag Goel
Former Representative for Asia, WorldSkills Champions Trust, India
---
Daniel Christophersen
Representative for Europe, WorldSkills Champions Trust, Germany
---
Leonardo Fonseca Rodrigues
Representative for Americas, WorldSkills Champions Trust, Brazil
---