Looking ahead to WorldSkills Conference 2022
Find out about the most important themes and conclusions to emerge from our recent conference as well as when to continue the global skills conversation next year.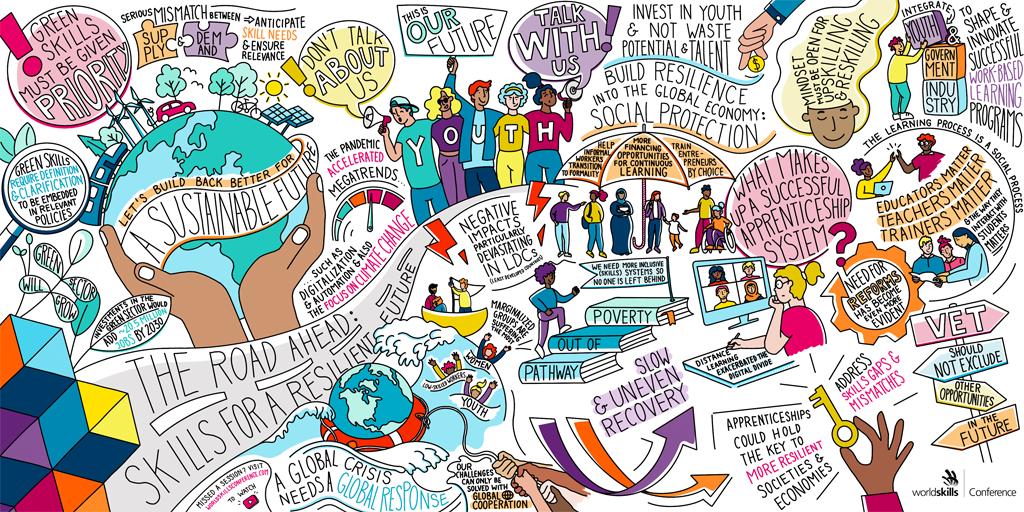 In October, WorldSkills Conference 2021 connected the different voices in the global skills movement. During five days, representatives from international organizations, policymakers, practitioners, businesses, and youth shared key data and views on how skill development will be a key element in the post-pandemic recovery.
Almost 80 speakers took part in 14 sessions held partially online and live from Shanghai, China. Their discussions focused on three tracks: the future of apprenticeship systems, how VET can contribute to poverty alleviation, and the skills required for green jobs.
"The COVID-19 pandemic highlighted many issues that have been there before," said Jacqueline Tanzer, WorldSkills Champions Trust regional representative for Europe, during the closing plenary. "Even if COVID-19 has made us regress with our agenda, it has also given us the opportunity to see things a lot clearer. It showed us what needs to be done, now."
Throughout a week of insightful sessions, we heard about many great solutions, strategies, and projects from around the globe and left reassured that cooperation at a national, regional, and global level is working better than ever.
What are the most vital points to emerge from WorldSkills Conference 2021?
It was encouraging to hear from the International Labour Organisation (ILO) that a green recovery scenario with bold new climate strategies and investments into renewable energies, building efficiency and green transport, could add some 20.5 million jobs for by 2030, mostly for medium skill level workers. This means that youth choosing to enrol in VET could have great career prospects in future greener economies.
As put forward by many speakers, to integrate greens skills universally across curricula, we require qualification frameworks, and more coordination to connect TVET with the world of work.
"One of the challenges we need to focus on is inclusion, there are massive skill gaps, whether that's in green skills, digital skills, engineering, and construction, we have to include as many young people as possible in those career pathways," said Neil Bentley-Gockmann, who moderated two of the session in the Skills for green jobs track.
"Particularly, we need to include more young women in labour mobility sets, as not enough young women are being trained up in new hybrid sectors," he added.
The pandemic resulted in the loss of 9% of working hours in 2020, and 4–5% in 2021. This affected low-skilled workers, women, and youth to a greater extent.
Sessions in the Poverty reduction through skills track discussed how countries can build more inclusive skills systems that ensure disadvantaged and marginalized groups can access and participate equally in VET so that no one is left behind.
We also heard uplifting examples from different parts of the world such as Educate!, Nai Manzil in India, or the Domestic Workers Association of Zimbabwe.
"Inclusion is truly everyone's business," recalled Shayne MacLachlan (OECD) from the panel Building skills for resilient societies moderated by him. "Which means all partners need to play their parts. The future of work is about connecting the classrooms to the workplace, meaning industry and employers," he said.
COVID-19 has highlighted the need for agility in the labour market, and apprenticeships are a cross-cutting approach to addressing skill gaps and mismatches, as well as unemployment and poverty.
More efforts need to be put in apprenticeship awareness and promotion at global and country level to present them as respectable options, as well as including all stakeholders ⏤ particularly businesses ⏤ in policy development processes.
"If every business, every organization can create one apprenticeship opportunity and we multiply that by the millions of businesses around the world, we can get so many young people into training, into viable learning and then into earning," said Nazrene Mazzie, as she reviewed the main conclusions of the track The future of apprenticeship systems moderated by her.
With remote learning having become the most immediate solution to continuing education and training, the digital divide is one of the most concerning issues raised during the Conference.
The future of youth relies on how we deal with the main challenges of today. Guy Ryder, ILO's Director General, said it loud and clear, "Will this fourth industrial revolution make societies more unequal or better? The answer inevitable is, it depends on the policies we adopt to deal with it."
The themes of this year's Conference will lead the global skills conversation over the next years. WorldSkills Conference 2022 will happen alongside October's WorldSkills Competition in Shanghai, China.