Connecting creativity and technology. How do they collaborate and coexist?
17 October 2017 at 08:30 in Conference Room A
In partnership with WorldSkills Abu Dhabi 2017

One of this conference's central themes – matching skillsets with future and current needs – comes into sharp focus in this examination of the relationship between creativity and technological innovation. Two leaders, one from the creative sector, and one with a high-tech background discuss the tensions and synergies between new technologies and creativity. They will also ask how important a 'traditional' skillset is today for the new generation, and for the economy as a whole, as we prepare for the skills of the future.
Speakers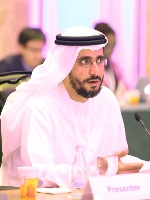 Rashed Al Shaali
Assistant Professor Architectural Engineering, United Arab Emirates University Al Ain
A professional and educator in Architecture Engineering with accomplishments in education and public service. Serving as an assistant professor of Building Science and Technology at UAE University since 2006, seconded to the Ministry of Energy in 2014 to establish an Energy Efficiency Department. Prepared the Federal Energy Conservation Law first draft. Served as the UAE OPEC Environmental Focal Point and in the Federal Strategy for UAE's Green Economic Growth task force. Appointed as a Member of the negotiating task force for UNFCCC, and served as the focal point for MoUs between the Ministry of Energy (UAE) and its counterpart in USA, Singapore, Switzerland, and the Netherland.
A practicing architect/engineer with an interest in the holistic approach of development and building design with special emphasis on energy efficiency and high-performance buildings, fascinated by vernacular architecture that plainly illustrate passive cooling strategies and its adaptation to modern buildings.
---
Badr Al Olama, Director of Aerospace, Mubadala
Aidan Jones, Executive Director, WorldSkills Abu Dhabi 2017