What skills do employers really need?
16 October 2017 at 10:30 in Conference Room A
In partnership with British Council and City and Guilds

The primary challenge of any skills development system is to provide what industry requires. Through two panels – one with a range of employers and the other from education – this session will explore if educators are equipped to meet the needs of employers, and whether employers always request the skills that are vital for long term growth, especially in the context of globalization and other shocks to the labour market. The changing requirements of employers in the GCC will be addressed in detail.
---
Presentations
WSCP2017_10_BritishCouncil_Employer_Needs.pdf
Speakers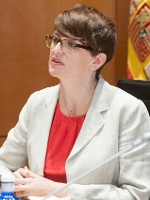 Tracy Ferrier (Moderator)
Global Skills Lead, British Council
Tracy Ferrier has over 20 years' experience in skills development and professional education, including working in and with the public, private and charity sectors. As Global Head of Skills at the British Council, Tracy leads the Council's work globally in vocational education and employability skills. This role includes setting overall strategy for this area, providing national and international policy advice, leading stakeholder engagement with the UK sector, building new partnerships and overseeing new innovations. This has given Tracy the opportunity to advise Education Ministers and policy makers from around the world on the transformation of skills systems.Prior to joining the Council, Tracy was Associate Director at the Mackinnon Partnership, a public policy and research consultancy specialising in the people side of economic development. In this role, Tracy led a number of consultancy assignments, including a project to review and improve the quality of UK occupational standards, and a gap analysis of training provision and qualifications for the maritime industry
---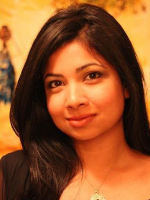 Sabrin Rahman
MD, HSBC
In her role Sabrin leads HSBC's sustainability across the Middle East, North Africa and Turkey. She has experience in implementing large complex sustainability projects across borders and has an established network of NGOs, charities and strategic partners across the region. Sabrin also provides sustainability advice to several government-led multi-stakeholder platforms in addition to businesses within the bank. Her strengths include fostering high level stakeholder engagement, research and innovative programme design. Additionally, she sits on the Board of the Directors of the Emirates Green Building Council and is a board advisor for INJAZ Al Arab UAE. Her areas of interest are in youth and sustainability, impact investing, strategic philanthropy and social entrepreneurship. Sabrin was also named as one of Australia's Brightest Young Minds in 2008 and nominated for Young Australian of the Year in 2015. She holds a Postgraduate Certificate in Sustainable Business and has embarked on a Masters in Sustainability Leadership at the University of Cambridge. Sabrin holds a Masters in Peace and Conflict Studies from the University of Sydney specializing in sustainability and peace through business. Prior to this, she completed a Bachelor of Commerce from Macquarie University, concentrating on marketing and organizational behaviour. Sabrin is also a certified auditor for ISO 14001:2004 (Environmental Management Systems) and SA 8000 (improvement of workers' rights, workplace conditions and an effective management system).
---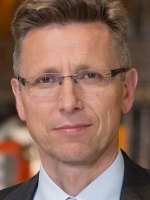 Helmut Schwarzl
CEO, Geberit Produktions GmbH & Co KG
Between 1982 – 1987 Helmut worked at Siemens Deutschlandsberg in various capacities including within the development department; serving as development engineer for ceramic Semiconductors; working on development and applications for the automotive industry, white goods and consumer electronics; as well as project leader and production support. In 1987 Helmut went on to study Mechanical Engineering and Business Administration at the Technical University of Graz, before joining Delphi Automotive Systems eight years later. Following his time at Delphi Automotive Systems, he enjoyed various roles at Rehau Polymer Industry. More recently Helmut was appointed as Managing Director at Geberit Beteiligungs and General Manager at Geberit Produktions in Pottenbrunn/Lower Austria in 2006 - where he has since remained. Among the various professional positions that Helmut has held are; member of the Steering Committee of the Federation of Austrian Industry for Lower Austria plus Vice President with the Focus Education; member of the Steering Committee of the Federation of Austrian Industry; member of the Professional Association at the Austrian Chamber of Commerce for the Chemical Industry of Austria; Chairman of the Professional Association at the Austrian Chamber of Austria for the Chemical Industry in Lower Austria; Chairman of the Professional Association of Austrians Polymer Industry, Deputy Chairman of the Austrian Chamber of Commerce for the Industry of Lower Austria; member of the Board of trustees WIFI Lower Austria; member of the FTI Steering committee of Lower Austria; member of the Advisory Board of StEP-Up / Six Sigma; member of the Supervisory Board of the Sports Club Lower Austria (SKN) St. Pölten.
---
Zulfiqar Ahmad Cheema, Executive Director, NAVTCC
Saleem Al Habsi, Head of Language and Learning, Caledonian College
Kirstie Donnelly, Managing Director, City and Guilds
Raymond Patel, CEO, merSETA