Working group
Exploring new markets for skills competitions
Details
16 October 2018 at 11:35 in Amber
Fast changes in the world economies result in the appearance of new markets and new demands for skills. That leads to a gap between industry demands and training programs. By using WorldSkills experience, tools and standards in skills training and assessment, we can develop effective models and mechanisms for closing this gap. Let's share experience of new approaches and mechanisms that WS operators use at the national level and consider possible direction of development for international movement.

Main topics:
1. New formats of the WorldSkills Competition: hackathon, maker challenge, skills swap How can we bland traditional and new formats?
2. Soft Skills: how it could be presented in WorldSkills (set of skills, tasks and formats of competition)? How we can assess soft skills?
3. New WorldSkills markets: VET on-line training, TV-show, WorldSkills on-line platform – what else can we provide?
Presentations
---
Speakers
Director General, Union «Young professionals (WorldSkills Russia)"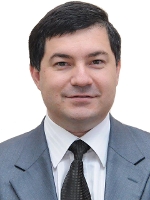 ---