Working group
The Holland Alumni Network: How to build succesful alumni networks with international experience?
Details
16 October 2018 at 14:45 in Grand Ballroom
During a round table discussion Karen inspires you by sharing her experiences with the Holland Alumni network, a worldwide network for internationals with a Dutch study experience. She takes you on a journey through time; from the start of the idea in 2008, the launch of the network in 2009 till present day when the network has over 60,000 members across the globe. She will talk about the key factors for success of an alumni network and point you in the right direction for creating your own networks. She will touch on both offline and online activities to keep the alumni involved through live events and active community management. And last but not least, ypu will learn that a network not only presents opportunities for alumni but also for organisations, institutions and governments. Of course, you are invited to join in and ask questions or make suggestions.

Karen will be joined by two WoldSkills Champions who will share their experience with the WorldSkills Champions programme. They will also share how they stay in touch with WorldSkills and each other and their wishes for the future with regards to WorldSkills.
Presentations
---
Speakers
Communications Advisor, Nuffic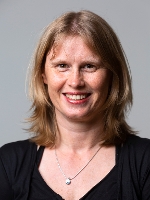 ---